Heard is a therapist-client matching service that helps therapists in private practice connect with potential clients. Heard would like to create a greater sense of community amongst the therapists using the platform. In initial prototypes, Heard designed primarily for the therapy seekers. I was brought on to the project to conduct generative research to guide the development of the therapist-facing side of the product.
1. What do therapists look for in a therapist-client matching tool?
2. What are the key pain points of therapists in solo private practice, and how can Heard address these concerns in their design process?
3. How might we increase the rate at which therapists receive referrals that convert to paying clients?
1. Complete competitor analysis to compare and contrast other companies working in the same market niche. 
2. Conduct surveys and focus groups to gain qualitative and quantitative data on the preferences and pain points of target users.
3. Conduct remote contextual inquiry testing and user interviews with target users to glean deep insights into user needs that can guide design decisions.
I completed a competitor analysis to assess the strengths and weaknesses of other companies in the same market niche.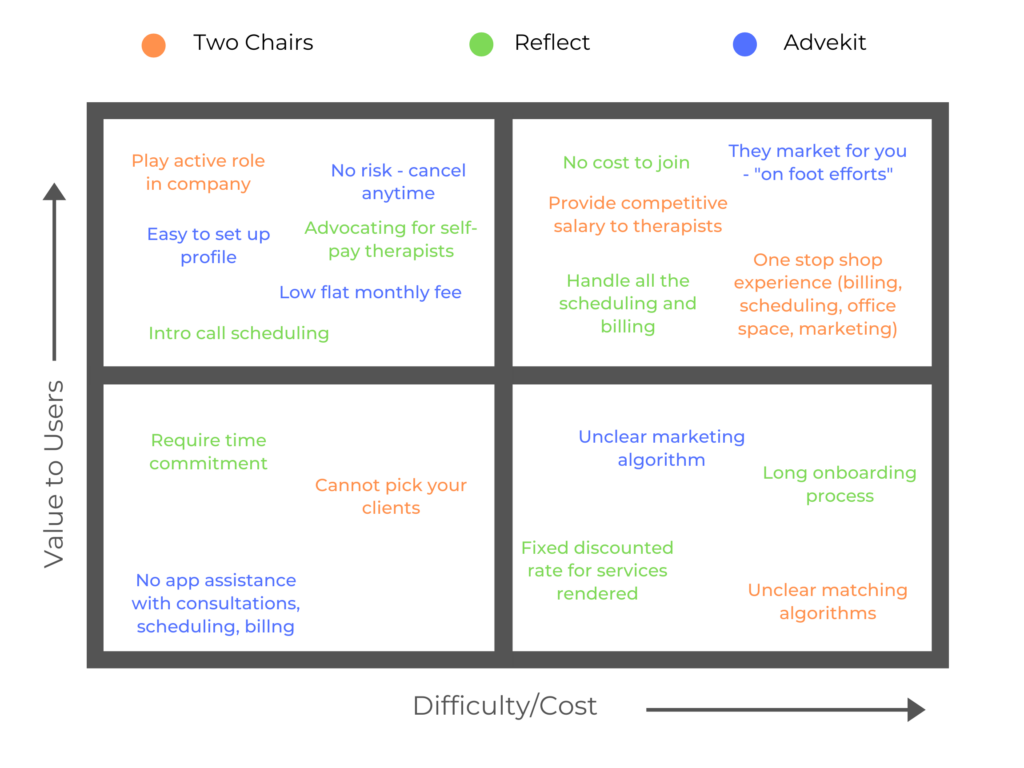 Online surveys were created in Google Forms and disseminated through online groups and social media. An in person focus group was held in San Francisco.
Demographics
Therapists in private practice
Gender: mixed
Ethnicity: mixed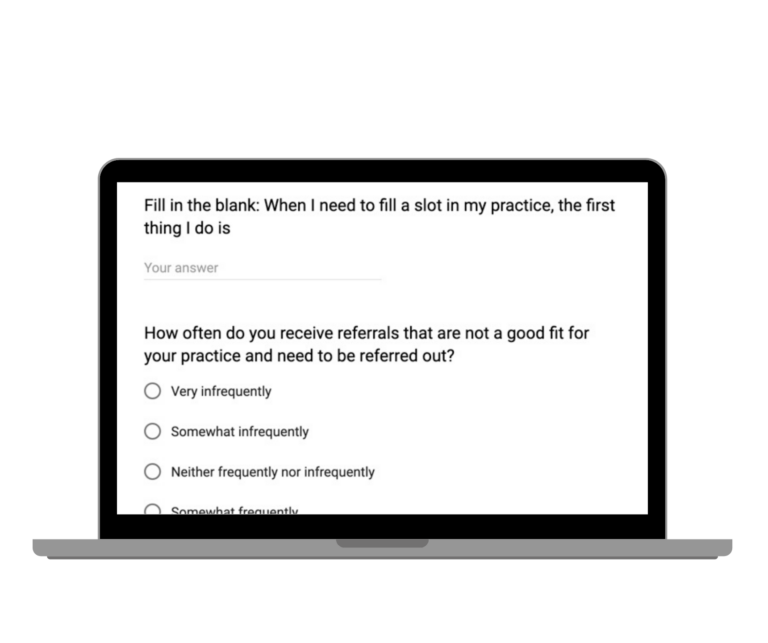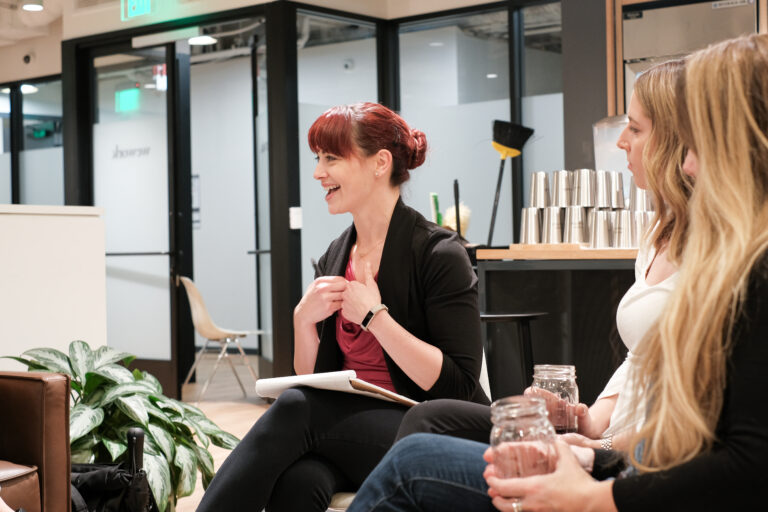 Contextual Inquiry and Interviews
I spoke with therapists in private practice and observed them viewing the live landing page and interacting with a beta version of the product.
"The way you drove that conversation was incredibly impressive. You leveraged open-ended questions to evoke stories relevant to her group practice, and followed up with the appropriate amount of directional guidance and supportive feedback as you walked through the database. It was great how you focused on maintaining the tabula rasa at the beginning of the call, avoiding the over-discussing of background, by bringing me in, that might influence the flow of the call."
-Andrew Riesen, Founder of Heard, after attending one of the user interviews.
I conducted a click test using UsabilityHub for a mock landing page. The respondents viewed the landing page and clicked on the page in order to indicate where they would go first to learn more about the product. They then responded to questions on their first impressions of the product and how likely they would be to try out the service.
33% of respondents indicated that they would try the service after attending a free social event hosted by the company, 33% said they would try the service after speaking with a company representative, and 25% stated they would try the service right away based on review of the landing page.
A word cloud of first impressions indicated that participants understood the purpose of the product and who it is for.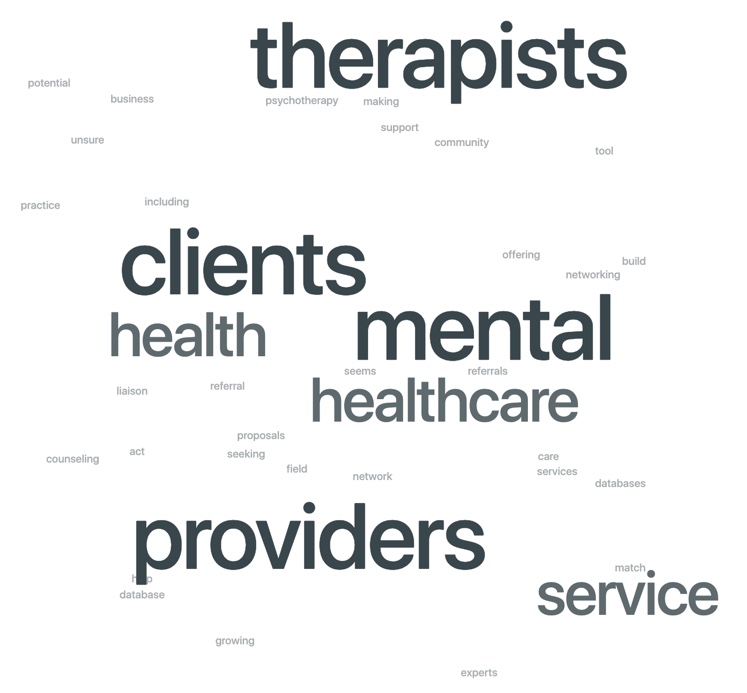 Therapists in private practice like the freedom and independence it gives them. One survey respondent stated, "I like picking who I want to work with and take on as a client." Another said they like that they have "complete control over [their] schedule." One even stated that freedom was the primary motivator for having a private practice.
"Building a practice is stressful."
Therapists also reported numerous stressors related to building a private practice. A focus group respondent spoke to the stress of deciding whether or not to fill an empty slot in her schedule with a client that can only pay a sliding scale rate, or wait and hope that another client will come along that is a better fit, and in the meantime not get paid for that hour at all. Therapists stated that the things they like least about having a private practice are the marketing, finding clients, networking, and having no paid time off.
"We have social support, but it's not enough."
Responses were mixed and at times contradictory regarding social support. Most therapists stated that they do have social support and strong friendships, but that private practice is "isolating work." One member of our focus group stated, "therapists are naturally introverted" and the opinion was shared by other members of the group. When asked whether having a supportive community of therapists or finding clients quickly was more important, 60% opted for finding clients quickly. 
Despite this, an interesting occurrence during the focus group demonstrated that therapists are still in additional support, particularly around building private practices. While commiserating on the difficulties of building a practice, the focus group attendees, all previously strangers, actively began exchanging information and planning to meet up again. One participant stated, "We need more of this. We need to come together like this." Another said, "I only really see other therapists in the break room of my office building. It's so hard to maintain friendships in this line of work." And one survey respondent spoke to the importance of having a support network in this way:  "I value working with others who I can consult with. I think it improves my [clinical] care and wellbeing."
I developed the persona of Celia to represent the target user for Heard. 
This began with compiling the user feedback and arranging it in an empathy map.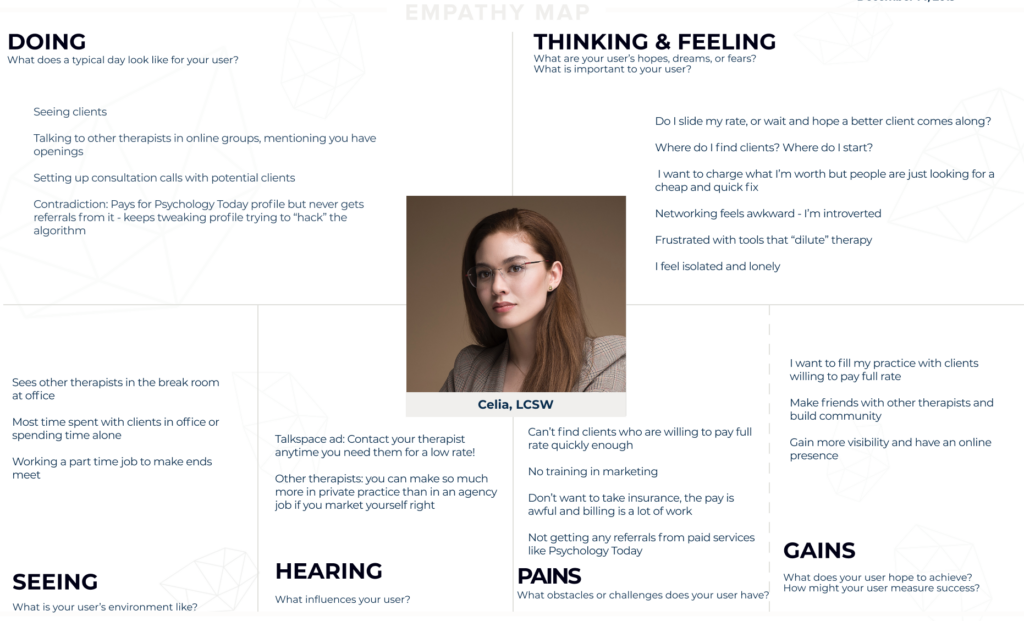 I then created a storyboard for a day in the life of Celia, prior to exposure to Heard.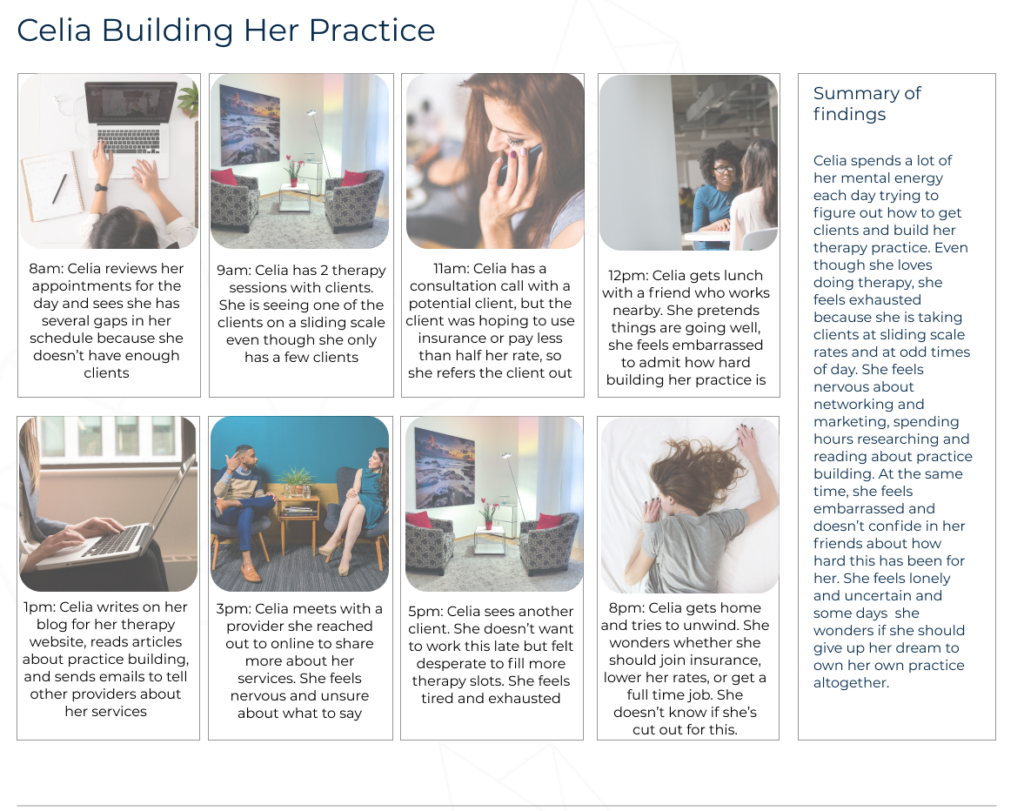 The persona of Celia, a 32 year old licensed clinical social worker in her first year of private practice, was developed from the empathy map, storyboard, and user feedback provided.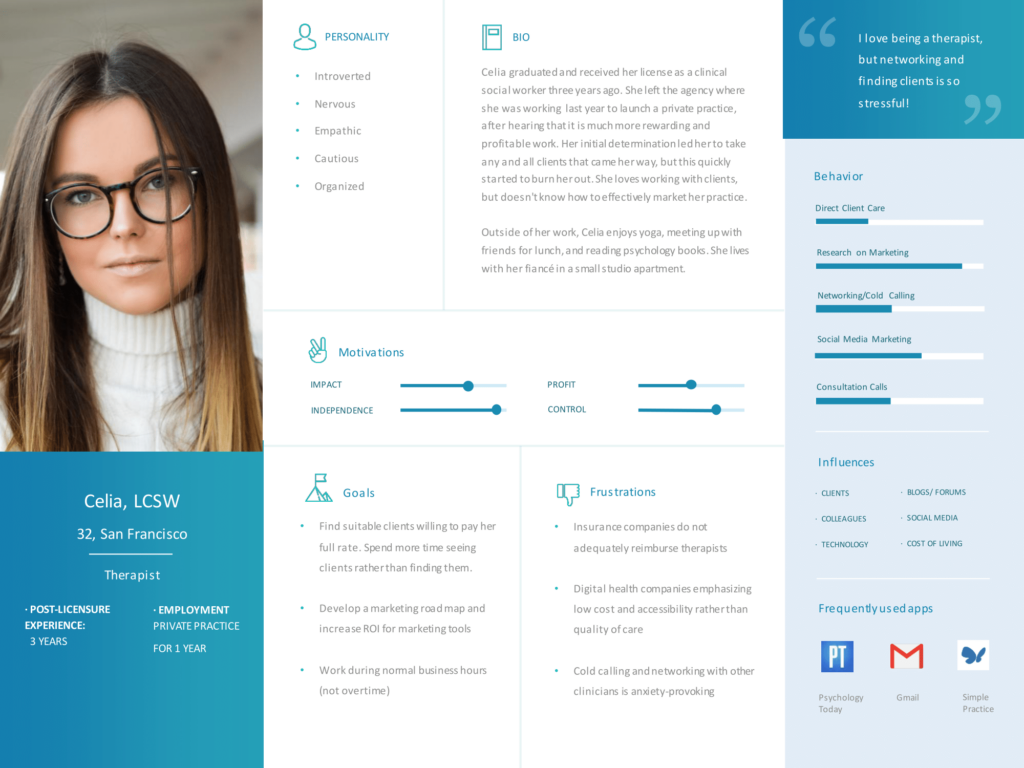 A user journey was created for Celia, to show her process of becoming a Heard member.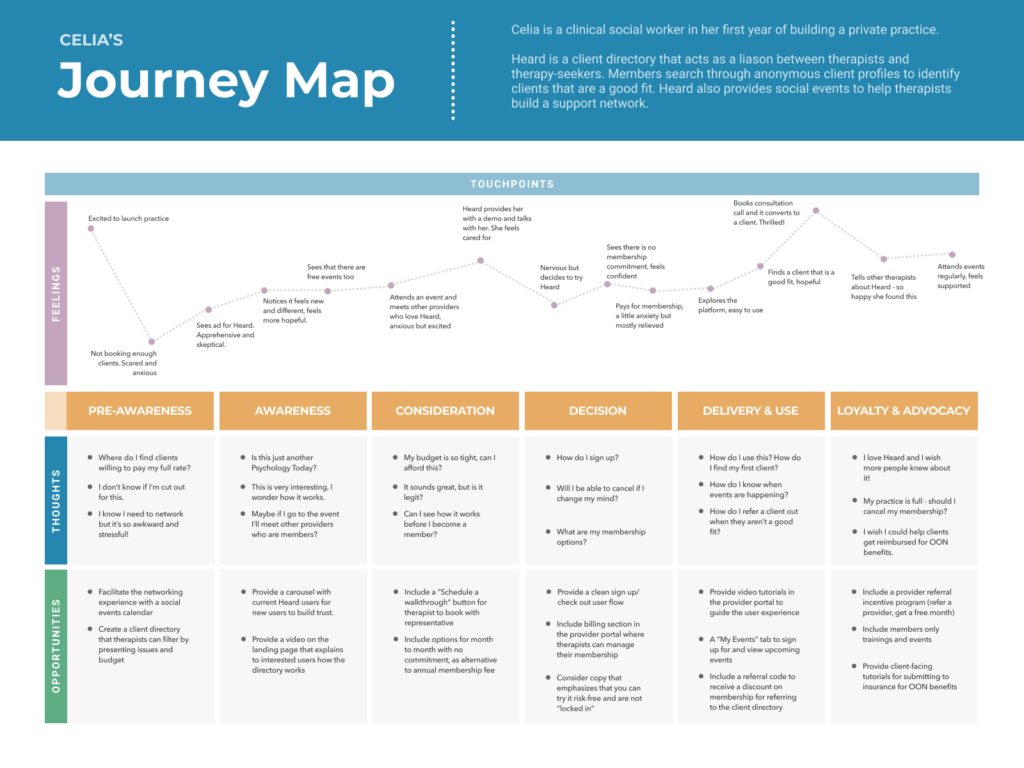 Therapists do not simply have difficulty finding clients, but finding the right clients for their practice.
The marketing and networking aspects of building a practice are anxiety-provoking for therapists.
Therapists use online tools in unconventional and unexpected ways. For example, many therapists I spoke with have a Psychology Today profile, but rarely receive referrals from this directory that convert. Rather, they rely on the SEO that the platform provides to provide validation to clients who are referred to them by their peers. Therefore, their needs are still not being met in terms of marketing their practice, even if they are committed patrons of Psychology Today.
There was a general sense of distrust when it comes to digital health technology, and concerns about platforms not valuing therapists or putting their needs first. It was clear that therapists see most of the marketing tools as prioritizing the needs of clients over the needs of therapists, or worse, prioritizing profit over user experience for both clients and therapists.
These insights led to brainstorming and early prototyping efforts in order to bridge the gap between two user needs – social networking and client referrals – and emphasizing that the company is focused on providing an extraordinary user experience for the therapists. Heard has the opportunity to build a referral community where therapists collaborate and support one another's growth, through the addition of social events and online forums, while continuing to provide "white glove" service in the form of personal demos/walkthroughs for interested clinicians.
With the persona developed and the problems more clearly defined, the next steps are to design in order to address the following questions:
How might we create a safe and comfortable environment for therapists to network and support one another?

How might we reduce the time a therapist spends marketing her practice in order that she can focus on seeing her clients?

How might we increase a therapist's access to full pay clients to better help her fill her practice?
If you have a research project, I'd love to hear from you.